Added

New feature "Hunter's Mark".
Physical and Magical damage against marked ork increases (base x1.2)
New linear perk tree "Marks".
Damage to marked
Don't hide
Per crit
Per non-crit
Magic mark
Petals as marks
No escape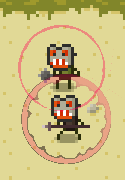 Some Orks (shamans) now have force shields. Shields stop arrows, magic arrows, shards, bullets. This shield isn't restored.
New item "Laser designator" (chance to mark on normal attack +1%)
New item "Magic laser designator" (chance to mark on magic attack +0.5%)